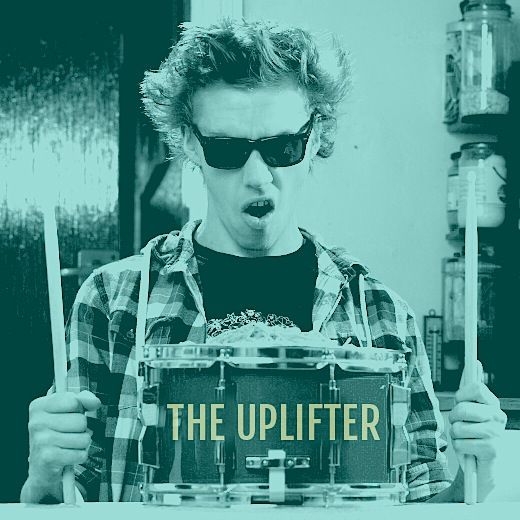 Before you ask, yes... That pasta did make a mess of my snare drum! January... What can I say about January... It kicked of with a sold out Uplifter show at SVA in Stroud. I really don't know how to thank the people of Stroud for the amount they support these show - I think I'm going to write a song for them. It feels like the only way to be able to genuinely show my appreciation for how much they have backed The Uplifter and attended countless shows for nearly 10 years. 

January is the month of my birthday so it tends to be strung out for as long as I can, using it as an opportunity to spend time with family and friends. 'Why is there a photo in this blog of your family and friends, what does it have to do with music?' you may be wondering. Well, it's because each and every one of the people in the photo below have supported me in some way along the lines and in-turn been part of the fabric of The Uplifter. At the end of the day, when you first start out and as the years go by who is the foundation of any artist? I believe it is family and friends...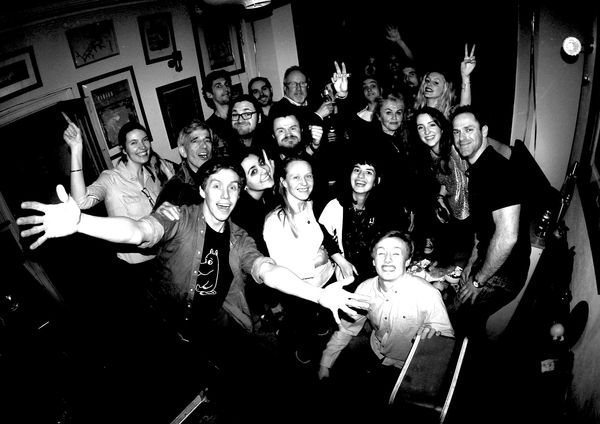 The Uplifter, to me, is not just a job, or solely a creative output, nor a just a means of making a living. It has in many ways been the gateway and source of much happiness and shared moments with friends and loved ones. It's also been a source of making friends along the way. Some of the biggest -how can I say it- most influential nights in the making of me have been when performing as The Uplifter - Moments where I really felt, 'this is what I should be doing, this feels more than right'.  My calling as it were. It took a lot of soul-searching and asking some of these people for their thoughts about what they thought I should do with my time on this earth... In the end it kind of came to be organically, and then in my mid twenties I made the decision to jump two feet first into pursuing a career in music and resisting the road of a 9-5 job.

I don't in any way condone 9-5 jobs, in fact some of the happiest people I've met have had steady 9-5s. I worked in a factory run by two of the nicest guys, Rob and Alan. I worked at their brush factory making paint brushes (one of the longest running factories hand crafting brushes in Britain) for 7 months to save for a 6 month travelling trip. I worked alongside a woman called Joan. She had been sat at the same table, with the same tools, looking out the same window for 35 years... but the more time I spent in her company, the more I realised how happy she was - it was the consistency of all of these factors as well as the familiar faces that played a huge role in her happiness... Then it clicked. *Whatever makes you happy and makes you tick... DO IT! No matter what it is* I first looked at Joan in the first week of working there and was thinking, 'why has this woman been here for 35 years'?... She must be mad. Then, as the months went on, it really made me think twice about judging people by what they choose to do for as living or spend much of their time doing. If they are happy doing it then I support them 100%, so long as it doesn't harm anyone. For Joan, the routine and her feeling part of something and a community of workers made her happy. Anyway, I always took that with me... 

Working at the brush factory helped me evaluate what I did and didn't want to pursue in life. 

Here's me and the brush factory family (it was, and still is, a family run business, run by two brothers). I was so happy that I took the time to get a tripod together and get the 35mm camera out - the father of the two brothers died shortly after this photo. I gave a framed copy of the photo to each person who worked there.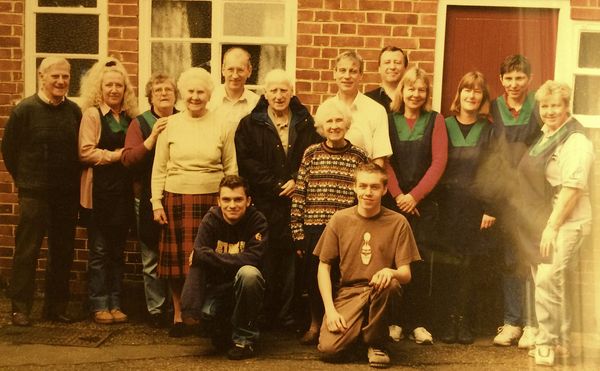 As the years go by, January becomes more and more a month to reflect upon the year just passed and to look forward and plan the year ahead. The music and gigs rest a little and quietly coil up like a spring waiting to leap into the new year once the year starts to gather momentum. It also gives more time to potter about... One of my favourite things to do in the world! Time to just sit and think, gather my thoughts, catch up with listening to new music that I've not had time to properly immerse myself into and write/record music.

Here's to the year ahead - "Cheers" :) T x